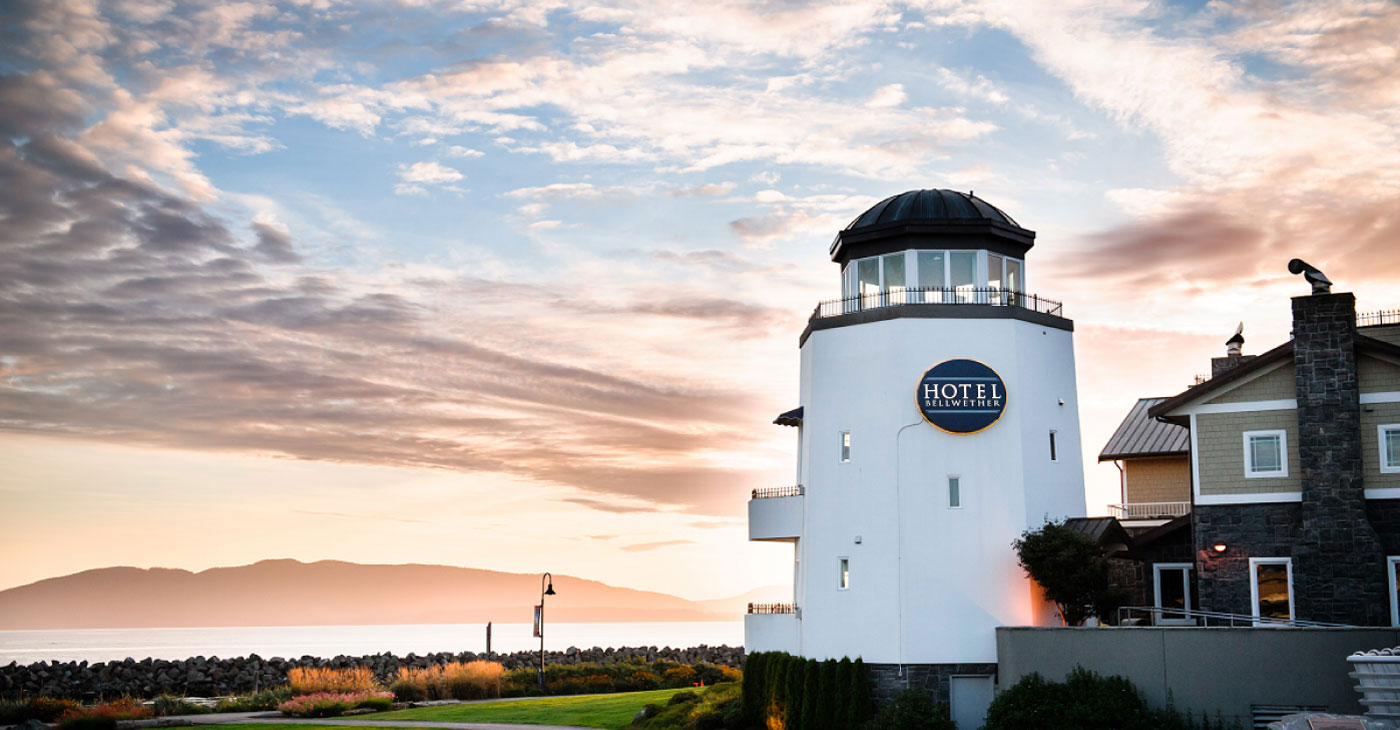 The Sunset Lounge at the Bellwether Hotel on Bellingham Bay may not be the swanky La Bar Américan in Monte-Carlo, Monaco or rough and tumble as Peep Peeps Bar in Aberdeen, Scotland. But the Sunset Lounge is posh when it needs to be, laid back most of the time, and rowdy when the big screen television is turned to a sporting event. The Sunset Lounge is as diverse as its clientele, staffed with attentive servers ready to cater to your every whim. Although the lounge serves hotel guests, the Sunset Lounge is also a popular venue for lounging Bellinghamsters.
For tee-shirt and jeans-wearing Bellinghamsters who take relaxation and socializing seriously, the Sunset Lounge is a place to kick back with a pint of beer and finger-food and wile away a couple of hours. Bellingham's small population of serious suit-wearing business professionals will find this lounge is a hub of elbow rubbing and craft cocktail consumption. The Bellwether Hotel is also a popular wedding and occasional Bar Mitzvah venue. Those who would rather dress to the nines and use flatware whilst snacking on house-made appetizers and sip their refreshing libations find the Sunset Lounge an oasis of understated luxury.
The Sunset Lounge does, indeed, have wonderful views of Bellingham Bay. When the atmospheric conditions cooperate, the sunsets here are stunning. Regardless of the weather, there is a fire in the fireplace, relaxing music, conversations in hushed voices, or a cacophony of voices in boisterous discussion.
Executive Chef, Michael Grogan, whom graduated with a BS in Culinary Arts and Food Service Management at Johnson and Wales University, has produced a lounge menu that includes tasty morsels to satisfy any type of diner. Chef Grogan has cooked in a variety of restaurants and brings plenty of talent to Bellingham's food scene.
Shanna Manning, the Food & Beverage Coordinator, is one of the few female Certified Sommeliers in Bellingham. She is an encyclopedia of wine information, and ready to help guests make an informed wine selection. In fact, Shanna will be one of six wine competition judges at this year's Bellingham Northwest Wine Festival. She is also collaborating with Chef Grogan to organize "Spring Fling at the Bellwether Hotel" on May 5th at the hotel's Lighthouse Bar and Grill.
Sunset Lounge's menu is a smorgasbord. Penn Cove Mussels are steamed in a broth of saffron, tomato, shaved fennel, chorizo, feta cheese and Pernod. Both the Pernod and fennel collude to enhance the broth with a subtle anise flavor. Served with a grilled baguette this dish is meant to be shared.
Dining with a mixed group of vegetarians and omnivores? Order the bountiful Charcuterie and Fromage tray. With a variety of cured meats, domestic and imported cheeses this dish also includes hazelnuts, olives, grapes, grain mustard and flatbread.
Pescatarians will appreciate the lightly breaded and perfectly flash-fried Calamari served with house-made aioli and juicy lemon wedges.
The Lounge's Fondue is a molten and silky-smooth gruyere cheese that includes white wine, garlic and a mélange of fresh herbs. It's served with baguette squares, crunchy fresh vegetables, and sliced apples.
The demographic here includes anyone 21 and over. It is an open, friendly, and inclusive venue. Whether you're a guest wearing a custom-tailored suit or someone with torn jeans and multi-colored hair, you'll feel very much at home here.The Sunset Lounge is a cosmopolitan lounge welcoming each guest equally.