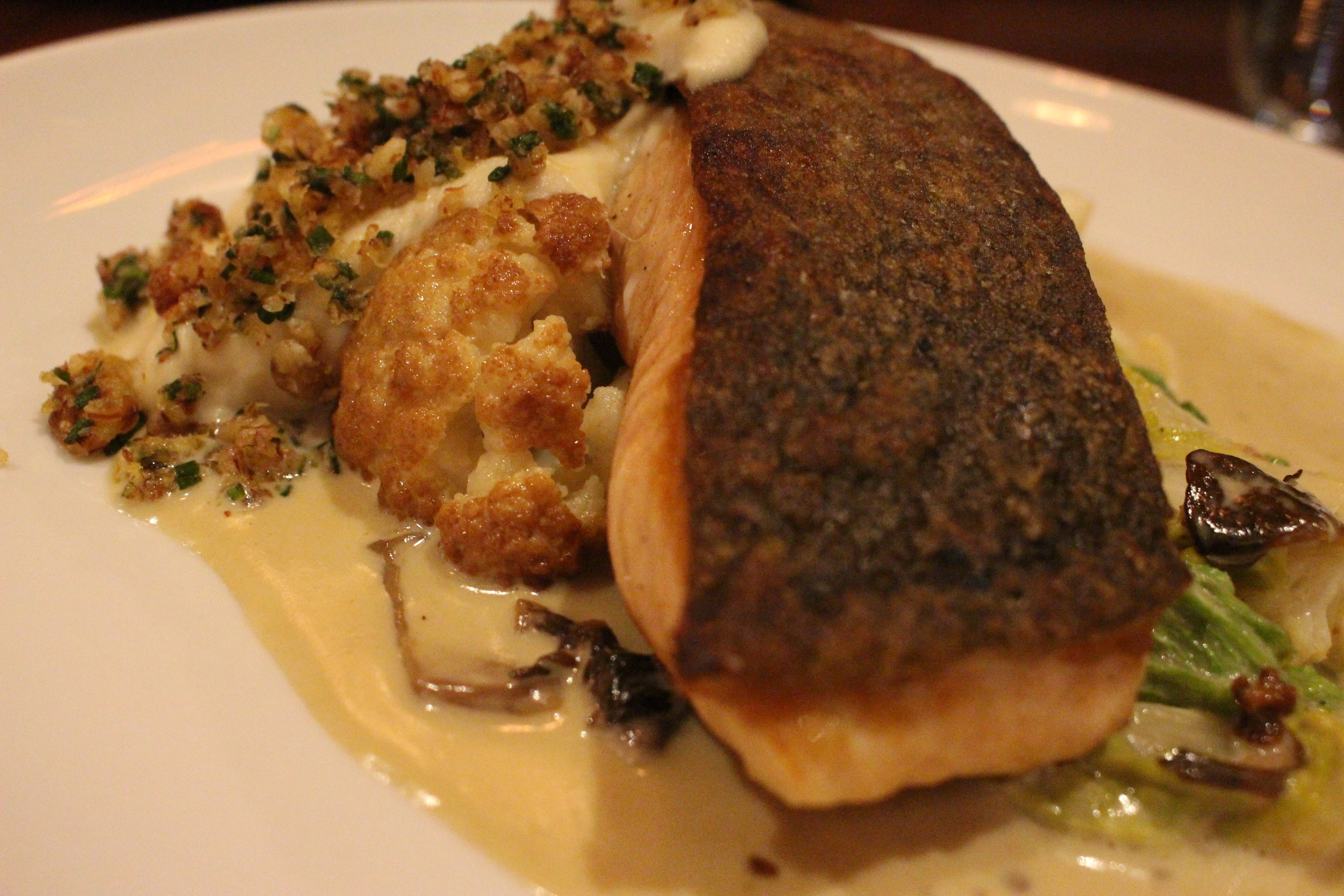 Hundred North has quickly become one of Bellingham's popular destination restaurants, drawing guests from around the region. Thanks in large part to new Executive Chef, Todd Allan Martin. Todd, a professional rock guitarist, grew up working in restaurant kitchens. When he decided to leave his music career, he studied at the Culinary Institute of America in San Antonio. The attention to detail and passion for excellence that he dedicated to his music also influences his work in the kitchen.
When an established restaurant hires a new Executive Chef, a new and very different restaurant emerges. Todd has restructured the kitchen to assure swift, efficient customer service. He works on the line to see that guests are served promptly and that each dish meets his professional expectations. His culinary focus is to care for people through food. To that end he has developed a diverse menu that caters to omnivores, vegetarians, pescatarians, and those with gluten free dietary restrictions.
Chef Todd has brought a culinary sensibility and standard of service that Bellingham deserves. In the year that he has directed Hundred North's kitchen and craft bar program he has made the dinner menu more locavore-centric. 100% of all produce is organic and mostly local. Proteins such as beef, rabbit and fish are locally procured from local farmers such as Cascadia Mushrooms and fishermen like Jeremy Brown.
Every excellent chef has a long-term plan, and Chef Todd is no exception. Within three-years his expectation is that all ingredients used at Hundred North are locally sourced, or within Washington State. He reasons that, "Washington is a breadbasket, we have everything we need right here to make fantastic food."
On a recent gastronomic outing to Hundred North we sampled Chef Todd's culinary expertise. Naturally, we started with craft cocktails accompanied with a variety of appetizers.
Rabbit Liver Pate: Served in an old-fashioned French canning jar, this memorable rabbit liver pate is topped with herbed schmaltz, and garnished with a date and red onion compote and served with toasted rustic bread. A dish redolent with savory flavors and not the least bit gamey.
Smoked Sturgeon Corn Dogs: Very much like traditional corn dogs, but filled with Sturgeon rather than a plain old hot dog. Garnished with delicious mustard onions that balance the flavors of cornmeal and sturgeon beautifully.
Grilled Beef Heart: In the days of yore, organ meats were common menu items in restaurants and homes alike. At Hundred North enjoy perfectly grilled sliced beef heart, served with roasted bone marrow, herb salad, potato puree and beef fat toast. A brilliant dish, this is the only restaurant in the region, that I know of, that serves beef heart.
Crab Dynamite: Crab meat served with vegetable stir fry, sunflower seeds, and garnished with breakfast mayo. Everything about this dish was spectacular; the breakfast mayo is scratch-made mayonnaise with clarified bacon fat.
Each of us ordered a different entrée and shared bites. Rabbit Fricassee: a hearty dish of shredded rabbit cooked with shiitake mushrooms, kale, bacon, and a Dijon cream sauce on a bed of house made pappardelle noodles. Perfect comfort food for the autumn and winter seasons, Pot Roast: A lean, flavorful bottom round braised in red wine with potatoes, carrots, onions, tomatoes, horseradish, and served with a puff pastry cap. Simply prepared, carefully constructed, and beautifully presented.
Cassoulet: This is a traditional French dish and nearly every family has their own recipe. Chef Todd's Cassoulet includes pork loin, red bean & vegetable stew, bread crumbs and Choron sauce (Béarnaise sauce with tomato puree, sans tarragon). A delicious version worthy of another visit! A clever choice as tarragon would have overwhelmed the subtle flavors of the pork loin
Steelhead: A generous cut of salmon, served with cauliflower, nape cabbage, celery root, porcini cream, and pine nut gremolata. The salmon was cooked perfectly, the skin was crisp, the meat was moist, and the very center of the salmon was perfectly soft and tender.
Chef Todd is introducing specialty dinners beginning with Valentine's Day. This prefix menu offers diners three different options for each of the dinner's six courses. Call Hundred North or visit their website to learn more.
In addition, Todd is organizing both wine and beer dinners – so be on the lookout for those special dining events! Seasonal changes will bring game such as duck, pheasant, quail, rabbit, venison and possibly elk to the menu. And finally, Hundred North is planning to be one of the featured restaurants at this year's Bellingham Northwest Wine Festival on August 4. Innovative menu items, scratch kitchen, attention to customer service: Perhaps there is a James Beard Award in Chef Todd's future!
Hundred North is open for dinner service from Tue/Sun from 5 to10pm "or later" which means they stay open as long as guests are in the bar or dining room. The kitchen closes after the last orders are taken at 10:00, and the range is turned off at 10:30p.m., sharp. On Saturday and Sunday they serve an incredible brunch menu. Reservations for dinner service are recommended.